My story & Why I Love Cinque Terre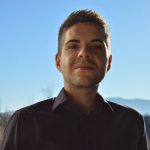 My name's Aitor Cacciola and I'm an Italian SEO Specialist & Webmaster  since more than 4 years.
I want to tell you my story and explain Why I Love Cinque Terre.
I was born in Switzerland because my father (native from La Spezia) at that time was working at the University of Lausanne as a professor.
When I had only 2 years, we moved to the Basque Country, in the north of Spain. My mother is native from a little village nearby to Bilbao.
Then when I had 8 years, we moved to Italy due to my health conditions. The doctors discovered that I had a Hodgkin's lymphoma 😔. Don't worry, it was discovered just in time. Now I'm fine and I can live as a normal person 😀.
When I was finally recovered my family decided to settle in the Tigullio Gulf (one of the most famous villages in that area is Portofino, that I imagine many of you already know).
In 2004 my father was working in the Internet industry. He had the idea to make a Tourism & Travel website about Cinque Terre and so promote these fantastic villages with the worldwide.
Here a screenshot of the website back to 2005:
Vintage version, right ? 😀 If you are curious you can check it on archive.org
At that time I was only a teenager he was studying at the High School and was having fun with friends. I never thought to start to work in the Internet Industry. I hated the computers and I only used to play with video games 😎
But the true is that I'm a geek. My father bought the first computer when I was not yet born. And when I had only 6 years I learned to format and set up a Windows 98.
When I finished the High School in 2011, just after the Financial Crisis, I really didn't  know what to do with my life. For a moment I would have liked to go to the University, but unfortunately, there were no good studies that I could afford. So, to not lose my time and with the advice of my family, especially my father (to which I can never thank enough) I decided to start and study on my own.
At that time universities and companies like MIT and Microsoft they started with platforms like Edx and Coursera to offer Online Courses on different topics.
Even now I'm making a 6 months specialization course about SEO from the University of California, Davis
When I finally learned the basis to make a website and the best practices on digital marketing, I decided to re-design and re-develop MyCinqueTerre.
My goal was to reach especially people from English speakers countries such as USA, Australia, Canada and UK because they really appreciate the beauty of this land. Unfortunately, just a few of Italians really value the Culture, Art, Monuments, and the fantastic places that you can find from North to South of Italy. This it happens when a country has too much (like when we are children and we have a lot of games to play).
I was lucky enough to go often to Cinque Terre (is only 30 minutes by train from where I lived). In Monterosso, I spent the New Year 😊 It's a really good season to visit because it isn't overcrowded and you can enjoy the places.
Another beautiful memory that I have is during the Christmas holidays. Each year in Manarola you can admire the Nativity Scene also known in Italian as Presepio Vivente.
Here the picture
Naturally others beautiful memories that I have are during the summer. For people from the surroundings areas (like me 😀), it's typical to go there for the awesome beaches and the crystalline water.
These are some of the reasons Why I Love Cinque Terre.
Now since 2 years ago, I'm living in Pamplona (north of Spain) because I want to explore the world and I hope a day to achieve my dream to go to live in the USA 🇺🇸
What is MYCINQUETERRE.COM ?
It is a Tourism and Travel web portal started from an idea of my father "Angelo Cacciola" to promote the five villages. The towns in order from West to East are Monterosso, Vernazza, Corniglia, Manarola, and Riomaggiore.
During these years we are trying each day to improve and so we have overcome 2000 subscribers and 10.000 monthly unique visitors 😀
This is one of my first projects and also the one that I most care because is about my homeland. I decided to open this blog to share with anyone in this world the beauty that you can find in these 5 hidden Gems on the Italian Riviera, and why you should must to visit. You can also follow me to stay updated and ask me if you have any question.
Each village has its local characteristics and sights, and there are some people that prefer one to other.
Monterosso
Monterosso is the biggest village and the most accessible by car and also the place where you can find the best sandy beaches.
The village, known for its lemon trees and anchovies, is split in two, its new and old halves linked by an underground tunnel burrowed beneath the blustery San Cristoforo promontory. Monterosso was badly hit by the 2011 floods, but recovered remarkably quickly.
And here if you are curious, you can read more information in this interesting Travel Guide to Monterosso.
Vernazza
It's considered the jewel of the Cinque Terre and you can enjoy beautiful landscapes both coming by sea or from the paths. It's also famous for the Doria Castle above the sea.
Vernazza has the only proper harbor in the Cinque Terre and is a charming, small fishing village. Vernazza was founded about 1000 A.D. and was ruled by the Republic of Genoa starting in 1276. Vernazza's medieval castle, Belforte, towers above the harbor and was built in the mid-1500's, primarily to protect the village from pirates.

Vernazza's historic wealth is evidenced by the elegant style of its houses and streets, which are decorated with tower forms, open galleries, refined arcades and elaborate doorways. The Village is surrounded by very steeply-terraced Olive groves which are said to produce among the finest Olive oil in the country.
Corniglia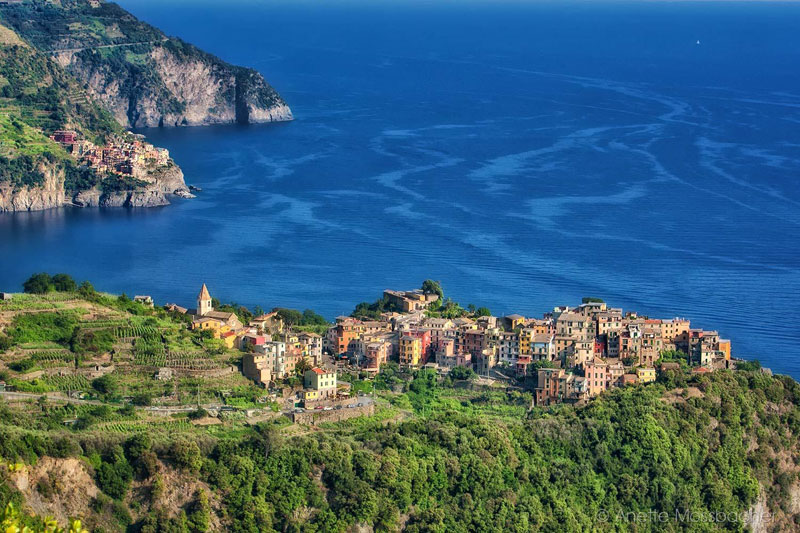 Corniglia is located in a central position in the and differs a lot from the other villages for its elevated position above the sea.
To know more take a look at this guide to Corniglia
Manarola
In a sheer promontory of dark rock, with its small port enclosed by two rocky outcrops, we find Manarola, ancient village originally founded probably by Roman, from Volastra. The village it's famous for the Via dell'Amore, also known as the Way of Love.
Manarola is the smallest of the seaside villages (though the next town, hilltop Corniglia, is even smaller), far less busy and bustling than Riomaggiore.

Manarola is a near-vertical cluster of tall houses piggyback up the hillside. Because it has no harbor, just a landing, its main drag becomes a parking lot of boats that are hauled up each day after the morning fishing's done.
Riomaggiore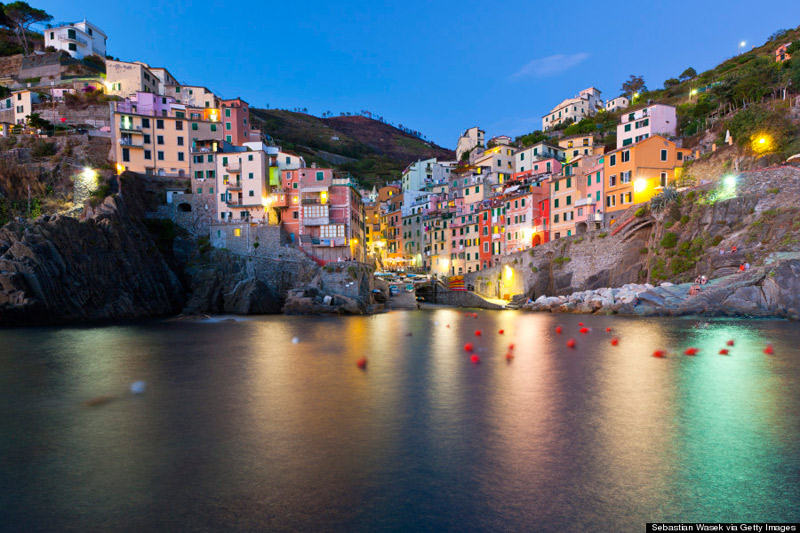 Is the other village in the Lover's path Via dell'Amore. Starting from La Spezia, the first town you meet is Riomaggiore that has the typical structure of terraced villages situated in torrential valleys, with steep walls and the small valley. The landscape is unique.
History
The town of Riomaggiore presents typical features reflecting its history and traditions.
The town stretches along a vertical axe where steep staircases are the only means to move around the town.
The typical houses have one or two-floor towers in order to use at best the place at disposal.
The first historical traces date back to 1239, when the inhabitants of the feudal district of Carpena entered in the Compagnia Genovese.

Natural Park
Riomaggiore is located at the interior of the Natural Park of Cinque Terre (founded by a Decree of the President of the Republic in 1999), and it is a Protected Marine Area housing several very rare animal and vegetal species. The sea of Cinque Terre is characterized by the presence of wonderful animals like dolphins and whales; in fact it is part of the Whales' Sanctuary, a protected Marine Area. The fishing is regulated.

Curiosity
Among the particular events in the area the Luminous Crib of Manarola, the suggestive town of Cinque Terre belonging to the municipality of Riomaggiore, is really worth seeing. This spectacular crib is prepared every year on the hill "Tre Croci" by the retired railwayman Mario Andreoli, who make tourists and inhabitants dream with his luminous statues. Very interesting is also the Celebration of Corpus Domini in Riomaggiore with the blessing of the sea taking place in May or June according to Easter.
Don't forget to check this awesome guide to Riomaggiore.
I really hope that you have enjoyed my post, and sorry to all English native if there is some grammatical/syntax error. Writing and writing posts in this blog I hope to improve it 😀
Greetings Aitor