HIKING IN CINQUE TERRE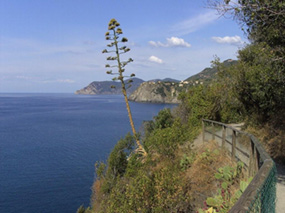 Higher up in the hills, in the Cinque Terre National Park, you can find back the peacefulness and quietness, with even more spectacular views on the coastline.
There is a dense network of hiking trails, connecting each of the villages with the trail along the top of the hills behind (going up to 800 meters).
If you come to walk, you have to take into account that it can be pretty hot in the summer. We therefor recommend a walking holiday in Cinque Terre especially in the spring or in the autumn.
Do you want know which paths are open and which are still closed?

Check the latest updates on the Cinque Terre Hiking Trails.
Hiking Video Guide to Cinque Terre


MADONNA DI SOVIORE

This Sanctuary is one of the oldest in the region and dates from the 11th century. The end point lies at a height of 470 meters.

The Sentiero N° 9 links with the Sentiero N° 1, the trail that goes from Portovenere to Levanto.
WALKING TRAIL N°1

From the departure in the centre of Portovenere, the path immediately climbs steeply at the right side of the citadel.

The walking path Portovenere - Campiglia is amongst the most beautiful walks we ever made.
SENTIERO AZZURRO - WALKING TRAIL N°2

The path is offering magnificent views on the Cinque Terre coastline and villages.

To walk on the path, you have to pay (5 Eur for a day) but it's really worthwhile and the trail is well maintained.
VIA DELL'AMORE

In the middle of the path, you come along 'the lover's lock, a place to seal your 'eternal love".

It is by far the most crowded part of the trail. At sunset, when most tourists are gone, you can enjoy the scenery in all quietness.