LIGURIAN CUISINE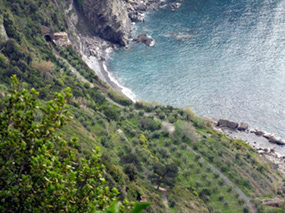 The Ligurian, by nature solitary and private, also possesses an innate stinginess. Although frequently subject to ironic comments, such parsimony comes from the prudence of those who for centuries have had to produce their food from the tiny strips of land available between the sea and the mountains. This land, however, produces the most flavorful basil, exceptional olive oil, and due to the richness of algae and strong currents, the tastiest fish. Ligurian cuisine is dense with flavors and aromas, resulting from combinations rather than mixtures. A sublime example is the "cappon magro" or thin capon. It's a laborious construction in the form of a pyramid made up of six or seven types of both fish and vegetables cooked separately and then built layer by layer on a base of crackers and covered with a rich sauce based on olive oil and anchovies. The decoration of the dish is elaborate, slices of hard-boiled eggs, madallions of lobster, large shrimp, oysters and other fruits of the sea. Apart from that, Ligurian food is basically very simple. The element of Ligurian Cuisine is olive oil that comes from those tortured trees clinging to the hills that fall almost perpendicular to the sea.

Cinque Terre Food & Drinks Guide


The wine of Cinque Terre is primarily a white wine and made from the grapes of the vineyards along the slopes of the mountains of Cinque Terre. Some vineyards are still being cultivated, for the specialists, with Bosco, Albarola and Vermentino grapes. The specialtie is the Sciacchetrà: liquored wine with 18% of alcohol.
The wine can be purchased by the bottle at the enoteca in each village or in a restaurant with your meal. Read more
They are served salate (salted), al limone (with lemon and a bit of olive oil) and fritte (fried). Acciughe sotto sale del Mar Ligure are fished, processed and packaged in waters off the Ligurian coast, which covers the territory of the municipalities in the region of Liguria on the Tyrrhenian coast delimited by the watershed line.
They are a small and delicate white fish, and are always fresh, fresh, fresh. Read more
Olive Oil is one of the main ingredients of the Mediterranean kitchen. Olives have been cultivated for centuries on the steep slopes of the Cinque Terre hills. Every tree produces yearly some 10 kg of olives which is good for 2 liter of olive oil. For the production of olive oil, no chemicals are used, the oil being the result of simply pressing the olives.
Focaccia is a flat bread, that is baked on hot stones. It is comparable to a pizza but a bit thicker. Read more